Welcome Guest, Not a member yet?
Why not sign up today and start posting on our forums.
RELEASE Eomac - Reconnect Lp (Eotrax) - April 2018
28th April 2018, 01:54
.
...Drawing influence from traditional Irish music, Haitian voodoo drumming, the raw old-school jungle of Source Direct and the abstract rhythms of Autechre, Eomac has crafted a dense, multi-layered and polyrhythmic exploration of percussion, texture and movement... 
http://hyperurl.co/reconnect_buy
https://eotrax.bandcamp.com/album/reconnect
https://eotrax.bandcamp.com/album/resist-all-dogma
** Top artwork as well via Jazz Szu-Ying Chen 
https://www.instagram.com/jazzszuyingchen/?hl=en
A1 Lower Your Gaze
A2 Ready To Die
A3 Language Has Failed Us
A4 Fall, Rise
A5 Other People's Fears
A6 Resist All Dogma

B1 Cry Of The Planet
B2 Denounce Everything
B3 Transmutation, Redemption, Forgiveness
B4 Being, Not Object
B5 Earth And Sky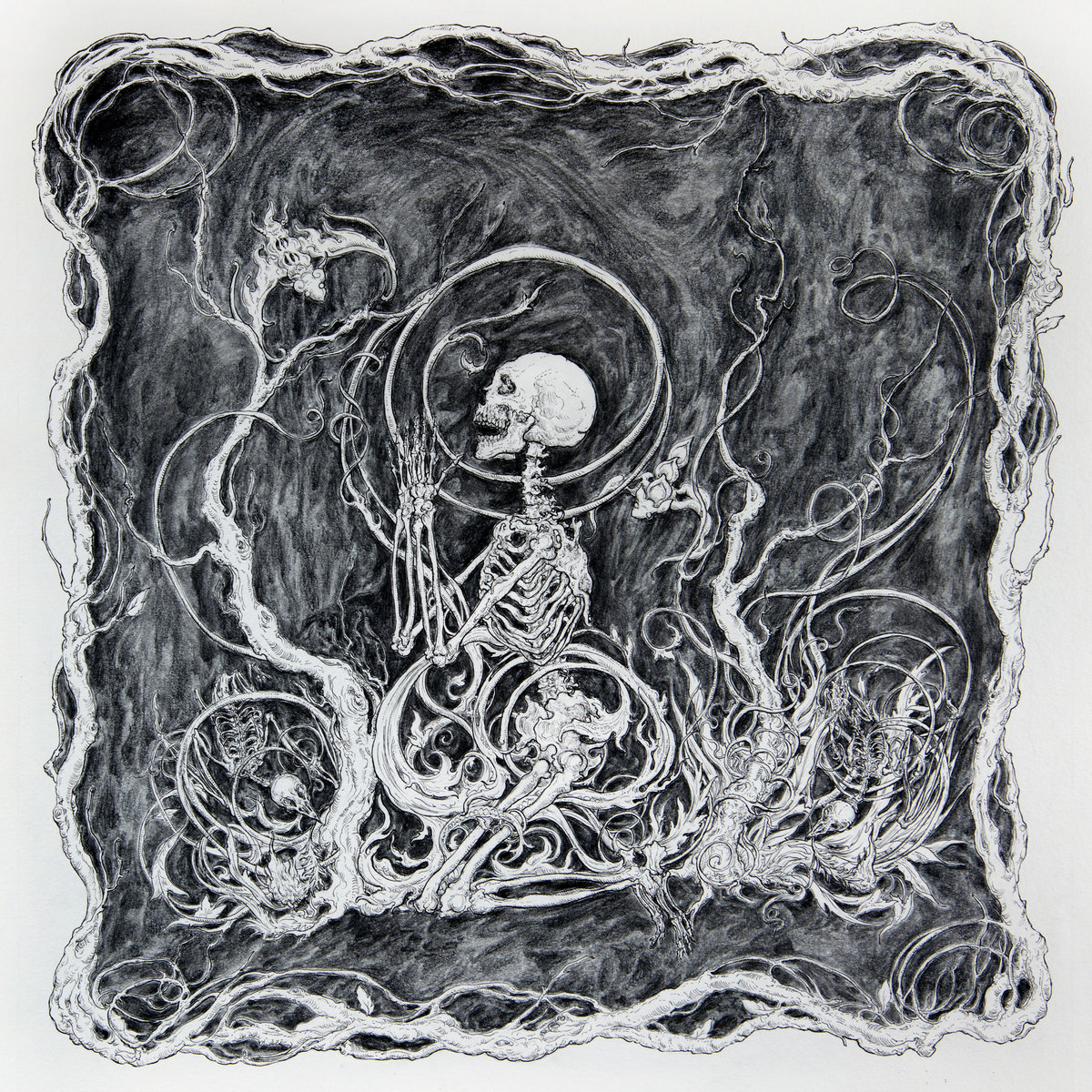 (This post was last modified: 10th September 2018, 04:44 by +ToRMeNT+.)
EOMAC 05.05.18
EOMAC joins us for a 1 hour guest show.
NTS.LIVE
https://www.nts.live/shows/guests/episod...h-may-2018
TRACKLIST:
EOMAC - 'RECONNECT'
JOHN CAGE & MORTON FELDMAN IN CONVERSATION (II), - JULY 9, 1966
GIANCINTO SCELSI - AVE MARIA
ROSINR NYIRANSHIMIYIMANA - UMWANA W'UMUHANDA (THE CHILD FROM THE STREETS)
AUTECHRE - NIL
J DILLA - JUNGLE LOVE
EOMAC - AN ANGEL'S VOICE THROUGH THE MIST
NIHILOXICA - NILO CHUG
NAPOLEAN STRICKLAND, JIMMI BUFORD, R.L. BOYCE - SOFT BLACK JERSEY COW
CHOEUR DES SOLDATS LANDINS - NGOMA YA KUREMA
CHOEUR DES SOLDATS LANDINS - CHANT DE RAMEURS
EOMAC - PRAYER PT. 1
DRUMMERS OF THE SOCIETE ABSOLUMENT GUININ - JUBA
JLIN - HOLY CHILD
YOSI HORIKAWA - WANDERING
MANCE GRADY - BODHRÁN SOLO
TWIN HEADED - IMPROV
MARK FELL & SANDRO MUSSIDA - OBJECT RELATIONS #1
CUT HANDS - BLACK MAMBA
CHEMICAL BROTHERS - FUCK UP BEATS
2562 - JERASH HEKWERKEN
WAQ WAQ KINGDOM - LOVE GAME
NIHILOXICA - CHOIR CHOPS
JABR BIN HUSEIN - GHAZAL
MESHUGGAH - I
MASAMI AKITA & RUSSELL HASWELL - UNLOCK THE MYSTERIES OF THE SUN
ARVO PÄRT - SARAH WAS NINETY YEARS OLD
EOMAC - FALL, RISE
GELUGPA ORDER - A BUDDHIST PRAYER
ANCIENT METHODS - UNTITLED
OMAR SOULEYMAN - LAQTUF WARD MIN KHADDAK (I WILL PICK A FLOWER FROM YOUR CHEEK)
10th September 2018, 04:47
10th September 2018, 05:01
enjoying as I post. 
https://www.mixcloud.com/DublinDigitalRa...mber-2018/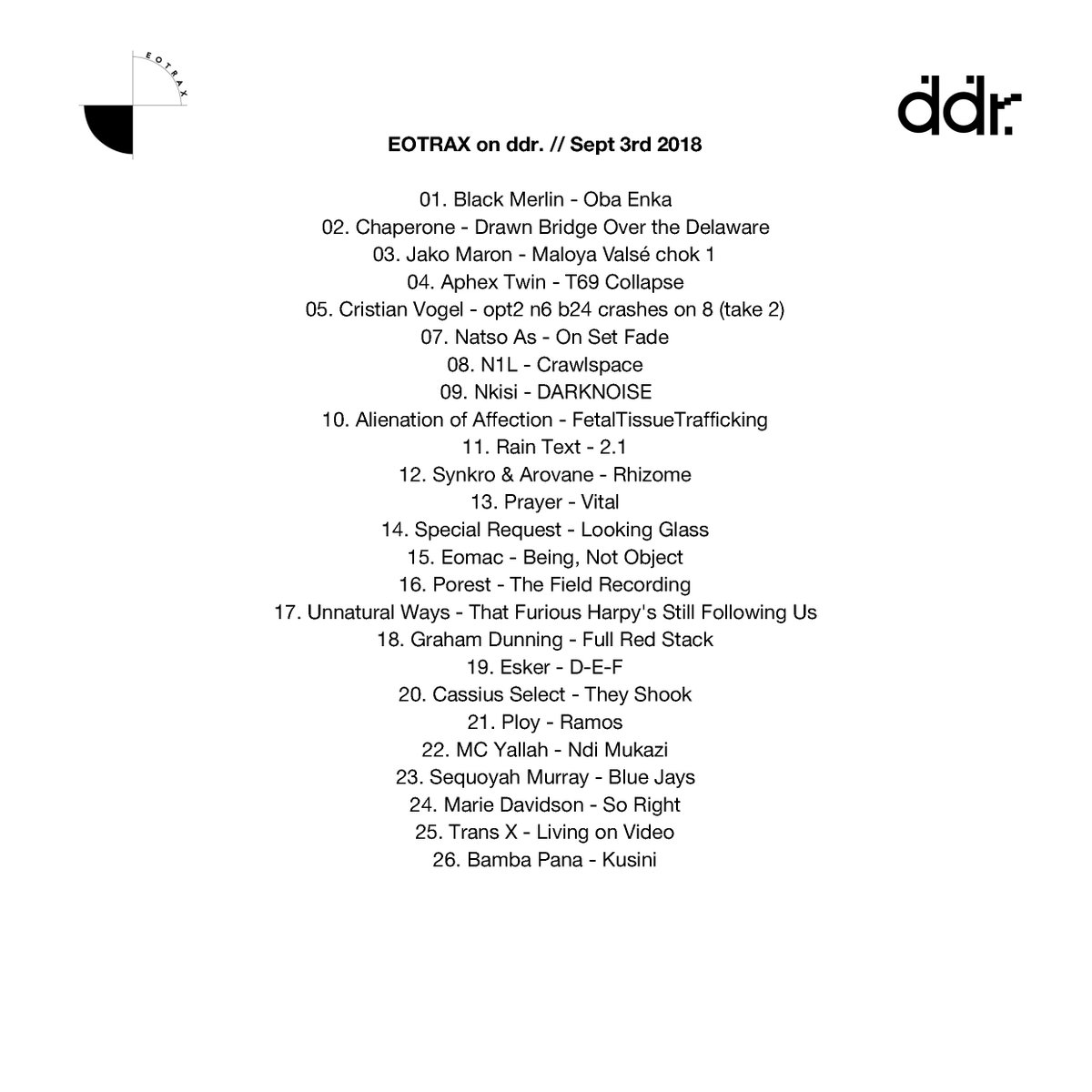 10th September 2018, 19:50
17th September 2018, 23:21
visual concept discussed within:
http://thequietus.com/articles/25306-eom...ideo-watch
Taken from the album 'Reconnect', out now
Directed by: Sal Stapleton & Eomac //
Camera, Editing, Lighting and Post Production by: Sal Stapleton at Goldmoth Media //
Concept and Art Direction by: Eomac //
.
(This post was last modified: 17th September 2018, 23:23 by +ToRMeNT+.)
18th September 2018, 22:09
Thanks for this thread, a lot to check out here, looks pretty damn sweet. Incredible artwork vectors and loads of good information. Well done, Torment+.
Damn, Muttley being positive feels good again for me.