Welcome Guest, Not a member yet?
Why not sign up today and start posting on our forums.
EVENT Technicality International Edition December 7th!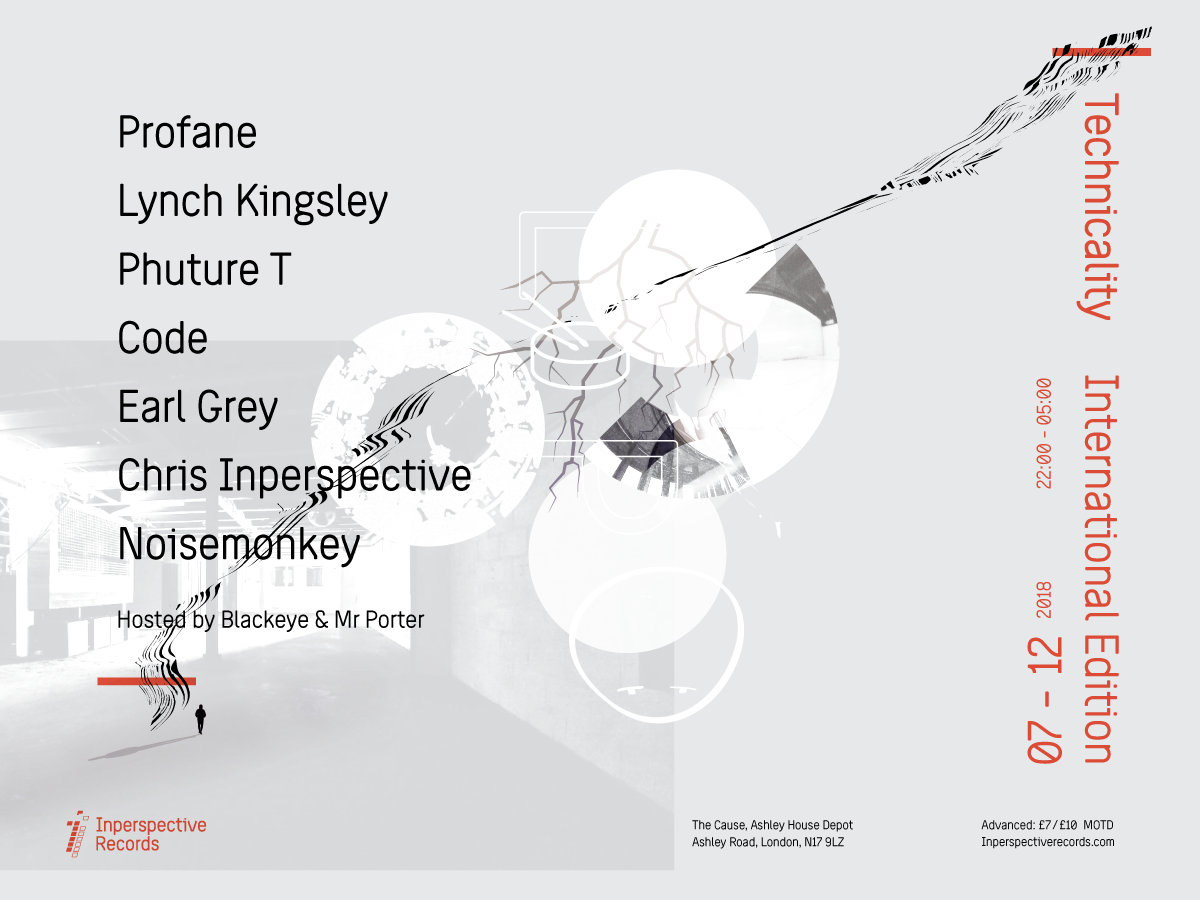 Line-up
Profane 
Lynch Kingsley 
Phuture T
Code
Earl Grey
Chris Inperspective 
Noisemonkey
Hosted by 
Blackeye
Mr Porter
2100-0500
7th December 2018
The Cause - Ashley House Depot, Ashley Rd, London N17 9LZ
Technicality is back, back with an incredible lineup of International artists and DJ's from across the globe.
Expect the purest, most underground, experimental D&B and Jungle that you know Technicality provides.
All set in the amazing new purpose built art space, boasting a fantastic sound system, excellent location and unique atmosphere. This is not to be missed.
https://inperspectiverecords.bandcamp.co...ember-2018
You should
This is awesome, just like in the old days!
Music critic for the Tally Ho
Statto should attend
Music critic for the Tally Ho
2100-0500 is pretty much my entire sleeping time
Like Statto, I think DJ and the idea of the night is decent. LINEUP IS HEAVYWEIGHT. I just NEED to go, that I likely need a lot of coaxing. Too much anxiety and expense created IF I FORGET TO BUMP IT UP WITH OTHERS.
Best I can do is intend a Technicality lucid dream. That won't be any skin off Chris nose. Sorry to hear Statto.
ed; I've edited the post, but the point remains.
.
(This post was last modified: 21st August 2018, 17:42 by Muttley.)
Sorry you might not get the mighty Skittle Matt
Unless you threaten to take his armchair
I just do not go anywhere outside the Cotswolds outside my daily lucid dreaming.
But that said, I'm sure you'll get a full attendance.
LINEUP IS TONY TIGER GREEEAAAT.
And Haringey, Tottenham as well...
Even the lesser attended ones back in the day feat. Equinox, Bizzy B, Andyskopes & Madcap, Shiva & Sandman etc (2007-2008 at the Arabian Perfume Shop Underground) had a full room.
I never managed to get to the ones after 2010-2012 at The Rhythm Factory. Nothing personal as usual.
.
(This post was last modified: 21st August 2018, 18:35 by Muttley.)
proper lineup and reunion action here!
A few interesting questions...
Are there seats/chairs/tables/sofas in the art space? I could not stand up all night even when I was 19. 
Lynch Kingsley...from Formication? :
(That Kingsley lives where Jon Statto does, in Notts). 
And any light refreshments planned at the bar, even if it's just Pringle style Snax for Profane? 
IChiOne was such a success because of it's food sometimes; Chris was a chef...just a thought. 
Otherwise most 6 foot plus sasquatches like I will be really hungry by half way and might disappoint ya with their paltry attendance hours. 
Just some early morning focused thoughts on the matter since you asked. I am a night owl.
not sure but it's close to Beavertown brewery which has good food.. Get in you hairy bastard Mick