Welcome Guest, Not a member yet?
Why not sign up today and start posting on our forums.
Subheavy presents Pure Jungle @ Maggie's in Plymouth
26th November 2009, 09:24
Subheavy & Back Then presents: Pure Jungle '93-'95 with:
BLAZINSTEIN
NOISEMONKEY
YOUR MOTHER
OSHI
NECTA SELECTA
Underground & Classics all night long, rinsing out the amen break and killer basslines through the beefy subheavy sound system. 10-4am. 3 quid before 11, 5 after @ Maggies, Bretonside (bus stn) Plymouth PL4 0BG....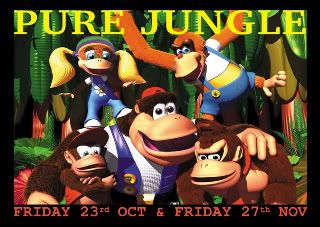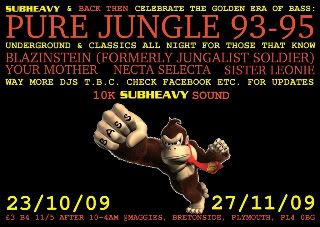 26th November 2009, 09:27
any chance of a recording? this sounds massive! i was just caining some old twisted up jungle this week, my mouth is practically watering at this thread.
in any case, have fun & hope you destroy the place NM
26th November 2009, 09:29
Yeah it should be recorded. I'll let you know when the archive is up.
Will be raining down the bassy pain as their system is unfeasibly heavy..
26th November 2009, 09:32
such good news this close to xmas!
cheers mate! look forward to that
ps. suggestion: record mcs on a separate input so you can do some post editing if needed lol
26th November 2009, 09:41
26th November 2009, 19:20
MetaLX Wrote:such good news this close to xmas!


cheers mate! look forward to that



ps. suggestion: record mcs on a separate input so you can do some post editing if needed lol
Should be absolute bare minimum of MCs, just hosting really
27th November 2009, 03:12
noisemonkey Wrote:Subheavy & Back Then presents: Pure Jungle '93-'95 with:

YOUR MOTHER
She never told me she was doing this! Good luck with it mate
27th November 2009, 19:09
davetrax Wrote:

noisemonkey Wrote:Subheavy & Back Then presents: Pure Jungle '93-'95 with:

YOUR MOTHER


She never told me she was doing this! Good luck with it mate