Fre4knc feat Maask / Minor Rain - Dust Audio 12" & Digital | Out Now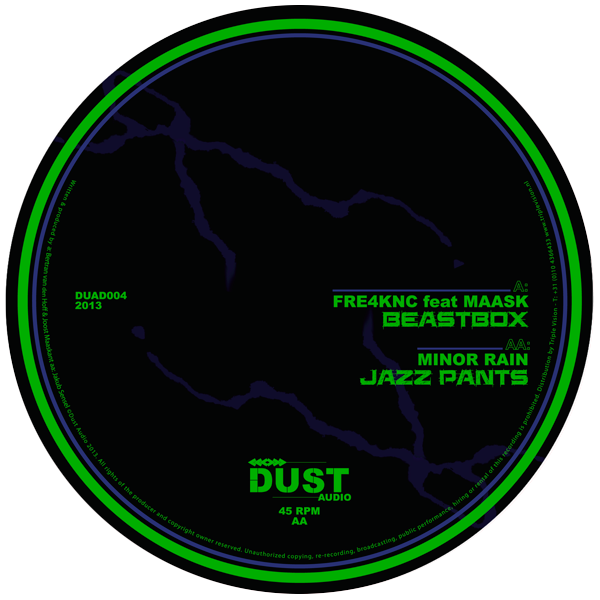 DUST AUDIO 12"
cat no:
duad004
a:
Fre4knc feat. Maask - Beastbox
aa:
Minor Rain – Jazz Pants
Release date:
Monday 7th October 2013
distribution:
Triple Vision
Format:
12" Vinyl & Digital
Purchase 12" Vinyl:
redeye
triplevision
Purchase Digital:
bandcamp
digitaltunes
iTunes
beatport
Fre4knc feat Maask / Minor Rain 12" Dust Audio004
http://soundcloud.com/dustaudio/fre4knc-...minor-rain
Fre4knc

steps back into

Dust Audio

Vinyl Territory with the fierce stepper,

Beastbox

. Collaborating with the Netherlands number One beatboxer ,

Maask

.
Opening up with an intricate drum pattern from the Human Voice Chameleon that is Maask, Fre4knc transforms this into drum & bass form with ease.
Once the bass announces itself with gargantuan proportions, keeping your body still is not an option. Again the vocal chords of Maask are demonstrated on the low frequency of the sub!
Fre4knc adds his own trademark shuffles and percussion which are the catalyst for the roller-coaster ride that Beastbox becomes!
Overall this is a very original concept that sits warmly in the 170 bracket.
Its been quite an 18 months for the Dutch man, with his first vinyl outing on Dust Audio 001 alongside Mindmapper progressing into releases on Samurai and the much anticipated Long Player, Transit 2 on Dispatch coming soon.
We are truly excited to present Beastbox on wax through

Dust Audio

.


Minor Rain

also returns to

Dust Audio

Vinyl for the second time after dropping Heckler on our 002 release.
This time around he presents the jazz infused tech roll out known as

Jazz Pants

.
A wicked sleazed out intro with live percussion recorded by the multi-talented man himself.
Horns bring in the double bass which builds then rolls into some pure tech funk whilst retaining all that jazz.
Imagine Miles Davis sat in front of a sequencer in the 21st century and this might give you some idea what this tune is all about.
Minor Rain still manages to give it his own trademark with ultra tight percussion, lovely switch ups, rolling hats which still retaining the original analogue concept. Late night smoke filled freeform jazz clubs at 174 mph!
It's been quite a year for Minor Rain, the Slovakian has become a rising star in drum n bass with releases on Med School, Samurai and also winning the Dispatch Remix competition.
With lots more in store for us at Dust Audio we always get a thrill from his music and never more so than when we first heard Jazz Pants.
Again expect to hear more from him on

Dust Audio

very soon.
Supported by the likes of
:
Photek, Ant TC1, John B, Maldini Bad Company, Cold Fusion, Ink, Naibu, Gremlinz, Treo, Nymfo, Doc Scott, Spectrasoul, Blu mar Ten, State of Mind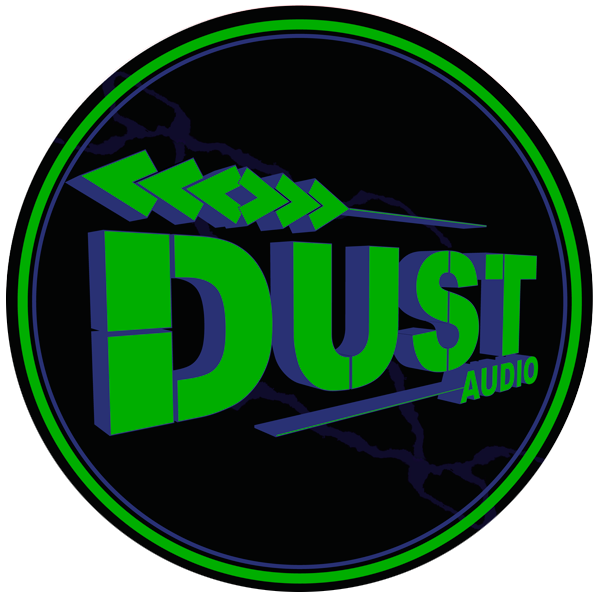 soundcloud
facebook
twitter
bump for the weekend Subvert crew :-)
Thanks to everyone that's supported and purchased this so far :-)
Possibly Related Threads…
ANMA, Fre4knc, Double 0 // Kick 'em All
sub
1
1,161
16th November 2020, 13:03
Last Post: sub
RELEASE VICTORIA DARIAN - A MINOR BIRD (OmniEP210)
Euphony
0
993
25th July 2020, 08:11
Last Post: Euphony
RIP Douglas Rain
Dinsdale
5
2,897
13th November 2018, 19:24
Last Post: Muttley
RELEASE Dust Audio present: Friske - Destruction EP | 12" & download - Out now
dustaudio
0
1,481
1st December 2017, 15:16
Last Post: dustaudio
RELEASE Subtle Audio 'A Decade In Breakbeat' digital download (+ full back catalog) OUT NOW!
Code
3
5,011
2nd November 2016, 15:17
Last Post: NoodeL