you know you work WAAAY too much when you entirely miss out on catching - let alone hearing about - Todd Edwards in town 11 days ago. DOH!!
Catch Todd Edwards new monthly "Face to Face" broadcast via SCION AV Streaming Radio here
Todd Edwards - Innovators Mix - October 2013
https://soundcloud.com/xlr8r/todd-edward...ix/s-84hZW
01 Todd Edwards "Detroit" (unreleased)
02 Rudimental "Waiting All Night (Todd Edwards Vocal Mix)" (unreleased)
03 Fryars "Cool Like Me (Todd Edwards Dub)" (unreleased)
04 Luxury "J.A.W.S." (Method)
05 Mutya Keisha Siobhan "Flatline (MJ Cole Remix)" (Columbia)
06 Basement Jaxx "What a Difference Your Love Makes (TCTS Remix)" (37 Adventures)
07 Todd Edwards "Back to Chicago" (unreleased)
08 MBVT "Hoxton (Bambarra & Kiri Remix)"
09 Jeremy Sylvester "Amigo" (Urban Dubz)
10 DJ D "I Can Make It" (unreleased)
11 Lucas Rezende "Brasilidade (Delgado Remix)" (294)
12 T. Williams "Three Letters" (PMR)
13 TS7 "Charles Martel (Original Mix)" (3Beat)
14 Velcro "Let It Go" (unreleased)
15 Robert Lux "It's All Love" (unreleased)
16 Cell Broco "Little Bit in Love" (Big Dada)
17 Spiritchaser "As We Fall" (Guess)
18 LHH "The Feeling" (LHH Music)
19 Dusky "Rise for Love" (Aus)
20 Wilkinson "Afterglow (DEvolution Remix)" (Virgin)
[video=vimeo;65938640]http://vimeo.com/65938640[/video]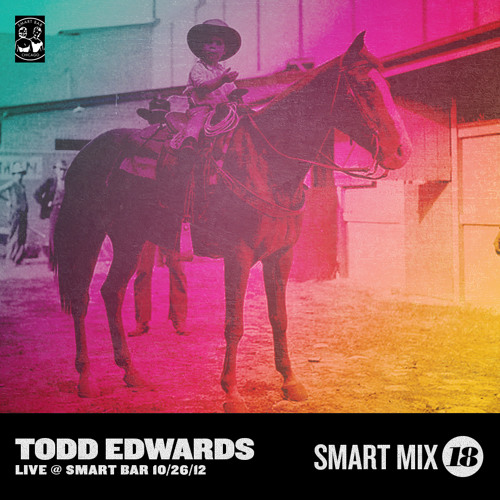 Smart Mix 18: Todd Edwards Live at Smart Bar - Chicago, December 2012
https://soundcloud.com/smartbarchicago/s...wards-live