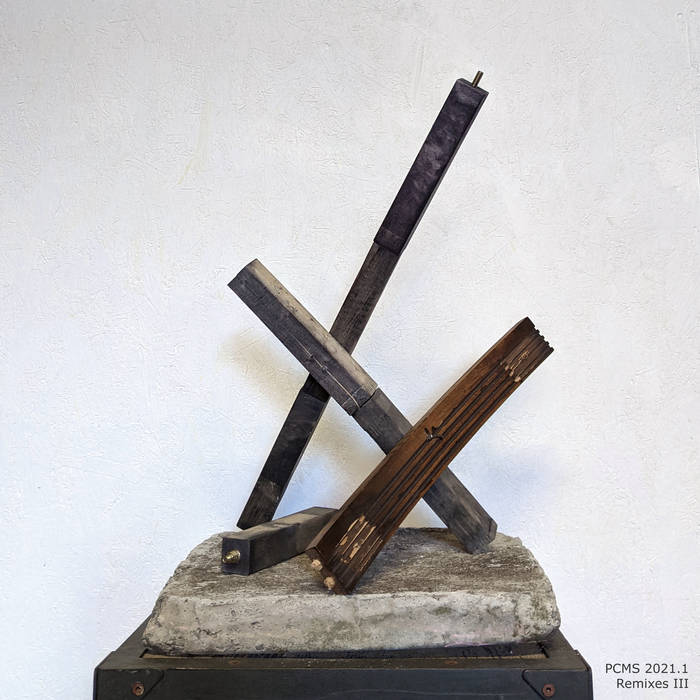 1. K-Chaos - Off Topic (Asymmetric Remix)
2. Metro - Box (Jegbee Remix)
3. Nic TVG - California (Metro Remix)
4. Nic TVG - Putting a Glass Away (dgoHn Remix)
5. DYL - The New Kid (Booca Refix)
6. Fr.om - Seed Coat (Dr...um Remix)
7. K-Chaos - I'm Strange - Remix
8. DYL and Nic TVG - We Ended up Somewhere (Quiet Version)
[PCMS 2021.1]
Remixes III features Drum and Bass tracks from the last five years of Pinecone Moonshine. Consistent use of inharmonic ambient sounds mix with echoes of jazz and funk setting the backdrop for broken breakbeats.
The LP opens with Asymmetric's Remix of "Off Topic" by K-Chaos. Drumfunk style break work and warm bass notes roll out over a warbling lead trumpet and inharmonic ambient sounds. Jegbee rebuilds Metro's minimal track "Box" as a Techstep roller keeping with the original heavy kick drums as the main rhythm.
A motif of surf music introduces Metro's remix of Nic TVG's "California". Metro slices the original into a splintered, fractured assemblage of sounds.
dgoHn compliments the lo-fi recordings of "Putting a Glass Away'' with new melodies and harmonies. As if looking hopeful to the future, the added layers calm the hectic 200 bpm pace of the swirling drums.
Booca plunges into the dense layers of inharmonic sounds of DYL's "The New Kid". The off-kilter, periodic waves of snare drums are carried by the rhythm of the bassline melody.
The progression of Dr...um's remix of "Seed Coat" by Fr.om can be likened to driving by buildings late at night. By introducing moments of space, "Seed Coat" transforms into an introspective, almost ambient Jungle track.
The "I'm Strange" remix by K-Chaos with low piano notes, grinding metal sounds, and a drum machine turned to thrash mode builds a nightmarish jazz band.
The Quiet Version of "We Ended Up Somewhere" by DYL and Nic TVG was the first take of the Jungle-inspired version that saw release in 2018 on Skutta Records. This version is minimal with sparse drum samples and emphasis on drones and a palette of sound effects.
credits
released June 4, 2021
Digital masters by Macc.
Vinyl mastering by Beau at Ten Eight Seven.
Artwork by Scratch and Line.
"We Ended up Somewhere" originally released on Skutta Records: skuttarecords.bandcamp.com/album/the-apparition-ep.
https://pineconemoonshine.bandcamp.com/a...emixes-iii
https://www.beatport.com/release/pinecon...ii/3378122
https://www.horizonsmusic.co.uk/products...emixes-iii
https://www.redeyerecords.co.uk/vinyl/13...iii-2-x-12
https://www.unearthedsounds.co.uk/produc...2-vinyl-lp
https://www.juno.co.uk/products/2021-poi...832991-01/
https://music.amazon.de/albums/B093SGDQNP